[Note: This article was submitted to both slvarc.org and k6bj.org to cover a wider audience.]
Although not your usual destination location, Anacortes Washington (two hours north of Seattle) is a sleepy port town offering ferry service to the San Juan Islands off Washington's NW coast. This unique small town location just happened to be the destination of my future business travel.
At an informal meeting prior to the trip (lamenting the remote destination, the lack of late evening non-business activity, early flights, and long drive), Bob (K6XX) brightened my travel options by suggesting I operate HF from hotel room. I thanked him for the idea, with a muffled snort of laughter, and under muted breath I said, "Oh sure, like I am going to carry the K3 and an antenna." My negative response was cut short when he offered up his Elecraft KX3 for the trip. My "like lightening" response, while picking up my jaw off the floor, was "uh…Cool!". This business trip suddenly got a lot more interesting.
For those of you who haven't seen the Elecraft KX3, on the web or in person, it is a portable HF radio that offers exceptional features and performance in a light weight (1.5 lbs), all HF band (6–160m), 10W PEP, tight sized (3.4″ H × 7.4″ W × 1.8″ D) radio, offering a lot of the features of its bigger brother the K3. It is an easy transition to the KX3 layout and button menu logic if you know the K3.
Packing the KX3 in my carry-on suit case (KX3, spare AA batteries, dipole antenna, mic, and CW keyer), required less space than a pair of shoes! Notice I said carry-on, I wasn't going to let this little guy out of my sight! Breezing through the airport was completely uneventful, both ways. I was never asked to open my carry-on. It seems TSA was more concerned with my PC being out of its bag, my shoes off, and cell phone to be run through the x-ray machine than the KX3 secure in my carry-on. I am still baffled.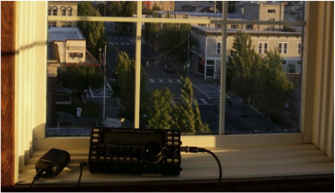 Arriving at my destination, I checked out all the options for operating. To my surprise I found the hotel had a top floor lookout over the city, and a view to the San Juan Islands. The plus was it had sliding windows! Two minutes later, high atop Anacortes, I tossed the dipole antenna out the window and on to the roof surrounding the lookout, turned on the KX3 and scanned the bands. Conditions weren't great that week for the evenings I operated; the antenna was a quick wire dipole and untested. However, I immediately picked up South America, Florida, and the East Coast on 20m. I used the built in speaker for the first few minutes of operation. Other guests (two Canadians and an Australian couple) were enjoying the view from the lookout and soon focused on what I was doing. They commented on the radio, its size, and what they were hearing! I surely hadn't planned on demoing the KX3, but heck… It is really cool (I think I said that before!).
This little box packs a punch in its small footprint. Anyone thinking of doing remote DX, backpack radio, or even having fun on any trip should consider this light weight, fully featured, little power house. I reluctantly returned Bob's KX3, and suggested that I need more operating time with it on ANY of my future trips in order to write a more complete review (…wink). He just smiled.