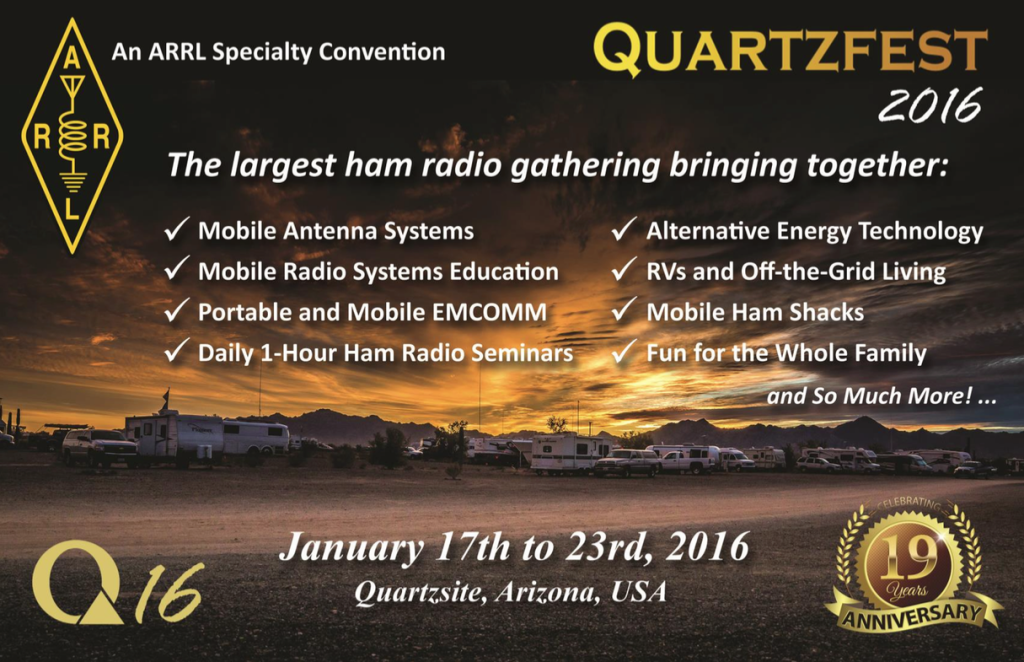 At the February 5, 2016, club meeting, Fred KJ6OOV reported on ARRL QuartzFest 2016, a convention that I did not know existed. In fact, QuartzFest is in a location that I didn't know existed: federally owned BLM land in Arizona. The week-long camping event specializes in mobile communications and RV living.
What can you do in the desert for a week? Check out the Program. You can attend any of the many information sessions, such as Pneumatic Antenna Launchers; Go Fly a Drone and Other RC Hobbies; SDR Radios, Hardrock Amplifiers & Radio Shield; and ATV & Microwave. Need to upgrade your license? There are VE exams.
If you have non-radio interests, then attend desert-camping sessions, such as Prospecting – Tips and Equipment; RVing Tips and Boondocking; and Batteries – the Proof is in the Pudding, Sonny. Is your Wednesday open? Join a group for a day of off-roading. Every afternoon there is a Happy Hour, and most evenings have some kind of social event.
Want to know more? Check out Fred's Presentation Slides. Or maybe just plan for a road trip around the third week in January.